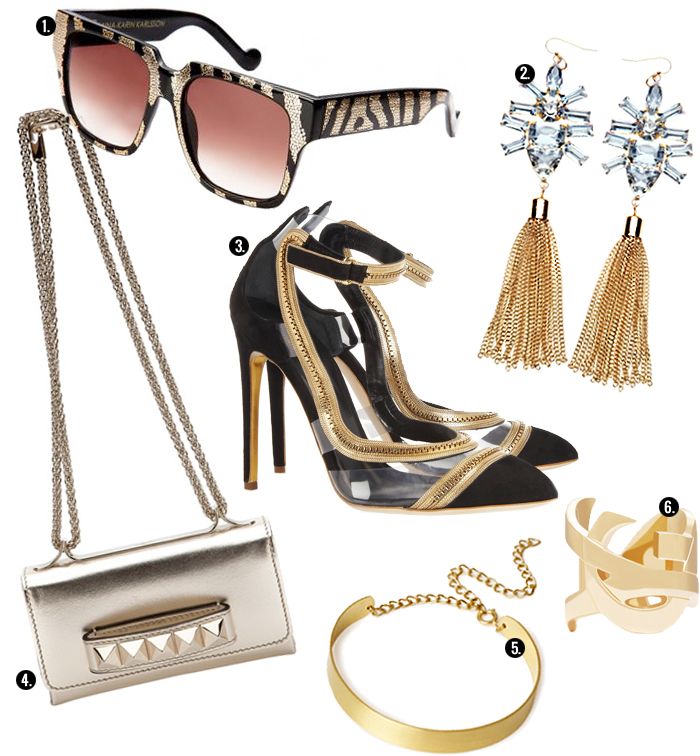 1. ANNA-KARIN KARLSSON sunglasses
2. ZANZLÖZA ZMYCKEN earrings
3. ANTONIO BERARDI pumps
4. VALENTINO* bag
5. WEEKDAY anklet
6. SAINT LAURENT* ring
Do you wear more gold tone jewellery or silver tone jewellery? I think I wear them both very seasonally – sometimes I can wear only silver for weeks, then after that gold is the only option. Right now I'm feeling gold in jewellery and accessories and my daydreams are full of these things you see in the picture.
***
Käytätkö enemmän kullanvärisiä koruja vai hopeanvärisiä koruja? Itse käytän molempia hyvin kausiluontoisesti – joskus saatan sonnustautua hopeaan viikoiksi ja sen jälkeen taas kulta on ainoa vaihtoehto. Juuri nyt kulta näyttää taas todella hyvältä minun silmääni asusteissa ja koruissa ja päiväuneni ovat täynnä näitä asioita, jotka näette kuvassa.
▪ FOLLOW @TEEMUBLING ON TWITTER & INSTAGRAM ▪ LIKE TFTB ON FACEBOOK ▪
Comments (4)